Adirondack Artists Guild – New feature Begins August 31st with reception 5p-7p

"Water+Color," a collection of paintings by Jacqueline Altman, will be the featured exhibit at the Adirondack Artists Guild from August 31 through October 3.
Water+Color is a constant theme for the artist. Ms. Altman is intrigued by both in her art and in her daily life.
She has always been fascinated and delighted with the way water reflects the color, light, objects and weather happening around it, always changing depending upon the elements above, around and within it.
Watercolor, as a medium for the artist, is activated by the addition of water in varying amounts to pigment/color which contains gum arabic to bind the two together.
In creating a work of art with this medium, the artist combines her vision of color and light with that water.
Depending on the surface on which one chooses to apply that mixture, from rough to very smooth, the use of tools such as a paring knife being pulled through still wet paint creates a feeling of reflections in still water. A brush loaded with color flows across the paper with the gesture of the artist's hand. In this manner, various effects, movements, rhythms and interpretations may result. Just as the water moves, reflecting the color and mood of the sky, the land and the vegetation, and perhaps human activity on it, so does the artist.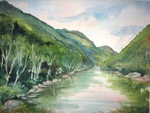 With the beautiful crystal clear water in streams and lakes surrounding us here in the Adirondacks,another element comes into play: seeing through the surface to what lies beneath. The depth of the water affects the layers of color and objects one sees below that surface, a challenge to one trying to interpret that vision. The diverse geology and the constantly changing weather and atmosphere, all mirrored by water in the landscape, are additional challenges.
The proportion of water to color is a variant the artist must decide upon constantly as one works with watercolor paints.
Ms. Altman never tires of watching that ever changing waterscape, that play of light and color upon the water, of trying to capture in watercolor some of those diverse and fleeting moments of water in a variety of environments.
There will be an opening reception on Friday August 31 from 5-7 PM at the gallery. Everyone is welcome.