How Do They Do That?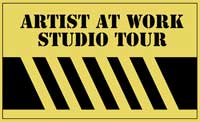 How does the painter get just such a shade of blue? How does a potter raise up a vessel from a lump on a wheel? And how on earth does metal get beaten into shapes like those?
Find out Sept 28-29, from 10 – 4 and Sept 30 from 12 – 4. Saranac Lake Art Works is presenting the sixth annual Northern Adirondack Artist at Work Studio Tour to help you answer just those questions. The Northern Adirondack region is renowned for its population of artists and craftspeople. By visiting artists in their studios, watching them create, and speaking with them about their work, you will gain insight into "how they do that".
Over 70 artists are in their studios and represented in galleries during this last weekend of September. Many artists are clustered in the hamlets, allowing you to park and stroll through historic neighborhoods and business districts. Others are best reached by car – wouldn't it be fun to get some friends together and drop in on a weaver, a potte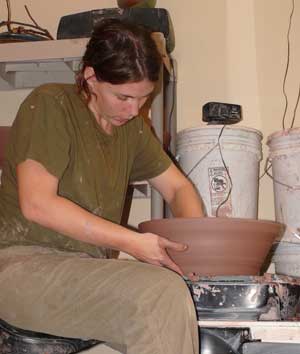 r, a painter, or a jewelry maker? While there, you might even find a piece to bring home, or to give to someone special. With over 70 participating artists, you are sure to find something right up your alley.
Watch for the yellow and black tour signs. Not all artists are available every day. Check the schedule online or pick up the Studio Guide from one of our sponsors who are our valuable assets, providing booklets, information, and much appreciated support for the Tour.
The Artists Studio Guide booklets can be picked up at the Adirondack Artists' Guild, 52 Main Street, Saranac Lake. Questions? Call 518-891-2615. The booklet is a keeper, a year round resource for artist information. It can also be viewed online by clicking HERE. Check our Facebook page for updates on events. Tune in to North Country Public Radio, our media sponsor. For lodging, dining, and travel information, contact the Saranac Lake Area Chamber of Commerce at 518 891-1990.
Artist at Work Studio Tour is funded in part by a DCA grant from the New York State Council on the Arts administered by the Arts Council of the Northern Adirondacks.